Switching over to a reduced carbohydrate diet has been a real change in our house.  My husband and I both love bread, and pasta.  Before our switch we ate so many meals that had pasta in it.  One of our favorites is lasagna.  I tried the Zucchini Lasagna and it was good but it really wasn't a substitute for lasagna.  In fact my husband said he didn't even consider it lasagna.  Then I found the cupcake lasagna recipe on Pinterest.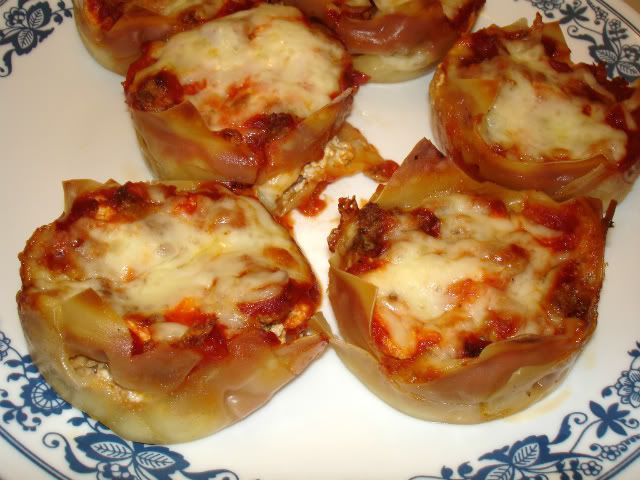 I followed her recipe once. Then being the cooking rebel that I am, I made it my own way. I use whatever meat I have on hand. Sometimes it is sausage, hot, sweet, turkey, or pork. Sometimes it is ground beef, ground turkey or ground pork. Our favorite is hot Italian sausage. I mix my spices in with my ricotta. Garlic, oregano, basil, salt and pepper. Then I add an egg to bind it all together. Take your won ton wrapper and lay it in your muffin pan. Add the ricotta mixture, meat, sauce, and a little mozzarella cheese. Then repeat. I bake it at 350 degrees for about 15 minutes or until the edges of the won ton wrappers are browned. Let it cool for a couple of minutes. Then remove from the muffin trays and devour.
This tastes so close to real lasagna that my husband even calls it lasagna.
Inspiration Abounds…
okoraf
Linking to:  Tasty Tuesday